German Gold Repatriation And Surging Silver ETF Holdings Drive Precious Metals Higher
[Some excerpts from the latest issue of the Weekend Update in the subscribers section of the website.]
It was an exciting week for precious metals as the gold price rose sharply and silver surged, all part of broader gains for risk assets that included a few titillating developments for the monetary metals. The move by the German central bank to repatriate a large portion of their gold reserves helped drive the gold price higher and an astounding one-day addition to the holdings of the iShares Silver Trust ETF (SLV) bolstered silver.
Demand was strong in Asia as well as in the U.S. where January coin sales have already set new records. Investors continue to pile into precious metals amid fresh signs of slowing global economic growth that is being countered by record central bank money printing.
Gold and silver had their best combined performance in eight weeks, the gold price rising 1.3 percent, from $1,662.70 an ounce to $1,684.70, and silver surging 4.8 percent, from $30.44 an ounce to $31.89. After three weeks of trading in 2013, the gold price is up 0.6 percent, still 12.4 percent below its high from September 2011, and silver has risen an impressive 5.1 percent so far this year, but it remains down 35.6 percent from its high almost two years ago.
There is some technical resistance for gold at the $1,700 level and around $32 for silver, so, these will be key levels to watch in the days ahead. But, the more important technical consideration for these metals was the very positive development in trading last week when a sharp sell-off on Thursday was almost immediately reversed, after which the price of both gold and silver headed significantly higher.
[To continue reading this article, please visit Seeking Alpha.]
Iacono Research Subscriptions
Model Portfolio Performance
as of Jan 18th, 2013
| | | | | | | | | |
| --- | --- | --- | --- | --- | --- | --- | --- | --- |
|   | Week: |   | +1.5% |   | 2009: |   | +15.5% |   |
|   | Year: |   | +1.1% |   | 2008: |   | -27.4% |   |
|   | 2012: |   | +3.7% |   | 2007: |   | +23.9% |   |
|   | 2011: |   | -5.3% |   | 2006: |   | +25.4% |   |
|   | 2010: |   | +27.6% |   | 2005: |   | +21.9% |   |
Things You Should Know The Price Of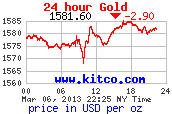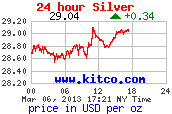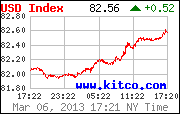 Advert