Retail Sales Fall in October, Halting Three Month Rise
The Commerce Department reported(.pdf) that U.S. retail sales fell last month for the first time since June, down 0.3 percent in October following an upwardly revised gain of 1.3 percent in September, as Superstorm Sandy was cited as having both a positive and negative impact on the data.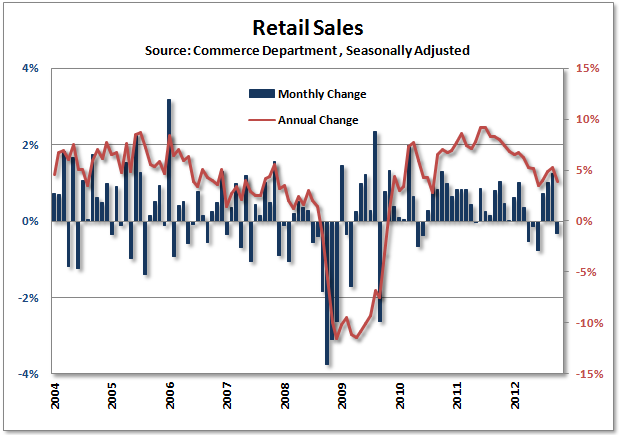 Though the effects of the storm could not be isolated, it is believed that its arrival during the busy month-end period depressed East Coast auto sales leading to a decline of 1.5 percent in October auto sales nationally, this following a jump of 1.7 percent the month prior. Automakers said they expected lost sales to quickly be made up as nearly a quarter million vehicles were totaled during the storm.
Excluding autos, retail sales were flat last month after a gain of 1.2 percent in September as 8 of the 13 categories declined, paced by a surprising drop of 1.9 percent at home improvement stores. In the wake of the iPhone 5 launch the month before, electronic store sales fell 1.0 percent and nonstore retailers saw a drop of 1.8 percent. Gasoline station sales rose 1.4 percent even though pump prices fell throughout the month and food & beverage sales rose 0.8 percent, leading the advancing categories.