Montana Legislator Wants to be Paid in Gold or Silver
To some degree, how the state of Montana is viewed by the rest of the world is well-deserved, though, it's probably one of the least understood states in the nation and not anything like most people think. When telling friends and family that we were moving here a few years ago, I got responses ranging from "isn't that where the Unabomber lived" to "does everyone live in cabins?"
Unfortunately, stories like this aren't doing anything to change that image but, ironically, that's kind of a good thing because, aside from the cold (which isn't nearly as bad as it used to be thanks to climate change), this is a pretty neat place to live if you're into outdoor activities, have lots of free time on your hands, favor a lower cost of living, and think that low population density is a good thing.
Columbia Falls Lawmaker Wants to be Paid in Gold and Silver

Columbia Falls Rep. Jerry O'Neil has sent a letter to Montana Legislative Services requesting that he be paid in gold or silver.

The Republican, who was reelected to House District 3 last week, wrote: "It is very likely the bottom will fall out from under the U.S. dollar. Only so many dollars can be printed before they have no value. The Keynesian era of financing government with debt appears to be close to its demise."

National news outlets, such as USA Today and POLITICO, have picked up on the story. And O'Neil acknowledged in his letter that he was reluctant to bring up the issue during previous legislatures because he "did not want to be branded as a fanatic."

But during his most recent campaign, O'Neil said some of his constituents told him he was not honoring his oath to the U.S. Constitution, which he says requires that money be backed by gold or silver.
Of course, this is, at the same time silly (he can easily buy gold or silver each time he's paid and would actually make it more difficult and costly for himself in paying his bills by having to convert his gold or silver salary back into dollars) and very serious (questions about the $16 trillion U.S. debt and the future of the dollar are no longer just subjects discussed by the lunatic fringe).
Nonetheless, with many states passing gold and silver legal tender laws, this marks another in a long line of related news stories that are, if nothing else, a sign of the times.
Iacono Research Subscriptions
Model Portfolio Performance
as of Nov 16th, 2012
| | | | | | | | | |
| --- | --- | --- | --- | --- | --- | --- | --- | --- |
|   | Week: |   | -2.1% |   | 2009: |   | +15.5% |   |
|   | Month: |   | +0.6% |   | 2008: |   | -27.4% |   |
|   | Year: |   | +6.1% |   | 2007: |   | +23.9% |   |
|   | 2011: |   | -5.3% |   | 2006: |   | +25.4% |   |
|   | 2010: |   | +27.6% |   | 2005: |   | +21.9% |   |
Things You Should Know The Price Of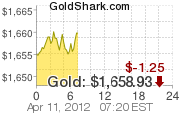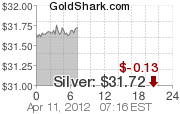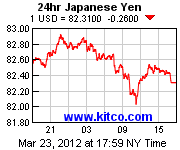 Advert