Everything's Down But Treasuries and Gold Stocks?
Now, here's something you don't see every day…
In the biggest one-day stock market sell-off in some time (I stopped keeping track of Dow 200+ up/down days some time ago, but, after today's market action that may soon resume) that is occurring on the 25-year anniversary of the 1987 crash, just about every risk asset is going down in price except for gold stocks. Not the metal, the shares. Very unusual, particularly given the steep decline in the price of gold and silver.
And, it's not just one company in the MarketVectors Gold Miner ETF (GDX) above that is pushing gold equities higher - gains are broad-based led by AngloGold Ashanti (AU) that is up about two percent.
Iacono Research Subscriptions
Model Portfolio Performance
as of Oct 19th, 2012
| | | | | | | | | |
| --- | --- | --- | --- | --- | --- | --- | --- | --- |
|   | Week: |   | -1.6% |   | 2009: |   | +15.5% |   |
|   | Month: |   | -3.3% |   | 2008: |   | -27.4% |   |
|   | Year: |   | +8.5% |   | 2007: |   | +23.9% |   |
|   | 2011: |   | -5.3% |   | 2006: |   | +25.4% |   |
|   | 2010: |   | +27.6% |   | 2005: |   | +21.9% |   |
Things You Should Know The Price Of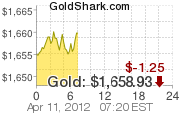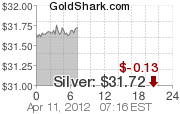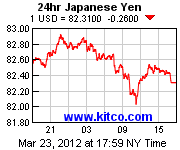 Advert