November 16, 2006
Junior Mining Stocks on the Move




Much has happened in recent weeks in the junior mining sector. You wouldn't know it by watching the business news, that is, unless you live in Canada.
One look at ROB TV and you get the clear impression that our neighbors to the north have a much greater appreciation for things that have to be dug out of the ground than we do on the other side of the Canadian border. Of course, if their expertise were in financial instruments that can be created with much less effort, ROB TV might look a lot more like CNBC.
While investors in the U.S. tune in to CNBC to hear the latest recommendations from Jim Cramer, the former hedge fund manager and host of Mad Money, those with a better appreciation for the rising value of precious metals watch closely as small mining exploration companies vie for attention on Canadian stock exchanges and the AMEX.
Though more likely to tout Krispy Kreme (NYSE: KKD) and Panera Bread (NasdaqGS: PNRA), Cramer has been one of the more bullish Wall Street types regarding the natural resource sector, having previously recommended the purchase of several miners, notably Yamana (NYSE: AUY) and the first subject of discussion here today - Crystallex.
Crystallex International (AMEX: KRY, Toronto: KRY.TO)
Toronto-based Crystallex reported financial results for the third quarter yesterday and shareholders reacted to the news that the long sought after permit for the Las Cristinas mine in Venezuela might be a little closer to reality than last month (or last year for that matter).
In what has turned into one of the world's longest running sagas of waiting for a foreign government to grant final approval in the form of environmental permits, long-suffering Crystallex shareholders appear increasingly likely to be rewarded one of these days.
Those fearing that the government of Venezuelan President Hugo Chavez may renege on assurances already offered should be cautious, but if trading yesterday is any indication, optimism is once again high.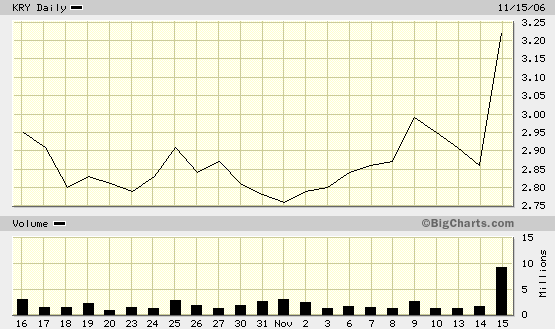 Cramer failed to mention the developments at Crystallex in yesterday's lightning round. As shown in the chart below, back in April when the miner was first brought to the attention of Cramer Nation, share prices doubled before getting whacked - a big Boo-Yah greeting, as it were.
Yesterday's 14 percent gain pales in comparison to the "Cramer Effect" in April, but the company is one step closer to beginning construction of a mine at one of the world's largest gold deposits.
With permit in hand, one or more buyers may suddenly materialize.
Kimber Resources (AMEX: KBX, Toronto: KBX.TO)
The big move with Kimber Resources came a couple weeks ago when a dispute between company management and major shareholder Jim Puplava, president of Puplava Financial Services Inc., was amicably resolved. The Vancouver-based gold and silver mining exploration company with operations in the Sierra Madre region of Mexico had been floundering for much of the summer with one misstep after another.
On the first of the month, with news that the proxy battle had been called off and a shakeup in the board was imminent, shares rose 12 percent and have continued upward.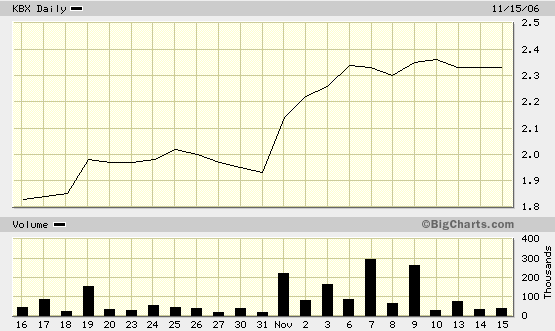 Like many other natural resource companies, the May highs are still far away, but with the addition of new directors including Larry Bell, Dr. Leanne Baker, and Dr. Keith Barron of Aurelian Resources (TSX: ARU.V) notoriety, the company should be back on track shortly with work on the pre-feasibility report for the Carmen deposit.
Like a number of other small Canadian mining companies, Kimber moved to the AMEX in December 2005, to be greeted with a volume and price surge that lasted for six months. If you had owned this as an over-the-counter stock in the U.S., you would have been greeted with a pleasant surprise with the added attention that began as the holiday season was in full swing last year.
Clearly the increased attention has subsided, but a new board along with resilient metal prices could make for another exciting holiday period.
Jim Puplava has been doing fine work for many years now with, among other things, a weekend radio program at Financial Sense Online that has an audience of tens of thousands around the world.
AfriOre Ltd. (OTC: AFOFF.PK, Toronto: AFO.TO)
This is the story of a mining stock that has been on the move for a couple years now, but, for all intents and purposes, stopped moving yesterday. Most Americans have likely never heard of platinum miner AfriOre Ltd., and after the news of a friendly all-cash offer from British-based Lonmin PLC, they probably never will. AfriOre management has already agreed to the half-billion dollar deal and will be formally recommending it to shareholders.
The offer of CA$8.75 (approximately USD$7.74) represents a premium of 14.3% based on the 30 day volume-weighted average trading price of AfriOre's shares.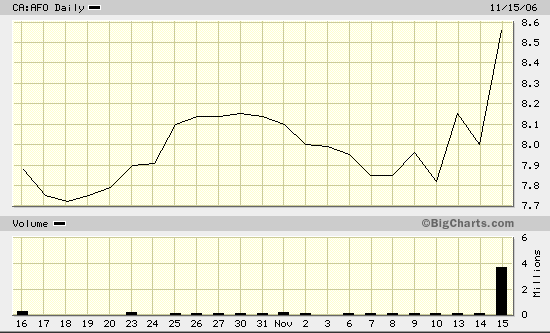 Based in the British Virgin Islands, the company has done a remarkable job advancing their Akanani platinum project in South Africa. You'd hardly think that they were in the mining business by looking at the spring 2006 section in the chart below.
Without a Canadian brokerage account, the only way you could have purchased shares of this company in the U.S. would have been over-the-counter, something that most U.S. investors avoid without even the slightest consideration. Apparently they fear that the price will collapse on the day after their trade settles like so many of those stocks that show up as spam in their in box.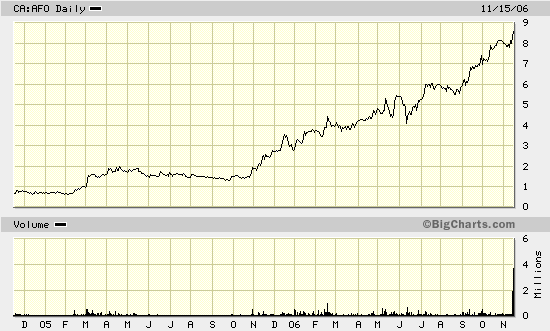 While not an Aurelian-like chart, what you see above is nonetheless an exceptionally good example of what can happen with the right 80 cent stock (even less in mid-2004), and a little "outside-the-country" thinking.
You cannot update yourself about business until you get proper information about market. In business new creditcard industry is highlighted and many companies are investing their money in the business credit card because it is initial stages and market has lots of potential. There are lots of credit service providers especially capital one card because it is accepted internationally. First of all you should be aware of credit card types so that you can identify which one is better for you. Some banks provide good installment plans while other offer cheap rates like bank of america card. To find out more business credit card offers you have to search online. If you see ratings of different credit cards, you will find chase credit card is best.